The Definitive Sofa Buying Guide
Published November 26, 2017
There's a lot to consider when purchasing a new sofa for your home: It's a piece you'll use every day, so it's important to purchase something that you'll enjoy sitting on and looking at for years to come, as well as something that will hold up for just as long.
So how do you find a quality sofa that'll suit your home, your style, and your lifestyle? We've put together a sofa buying guide based on our team's decades of experience helping customers pick the perfect piece, and the advice of an industry partner we've worked with along the way, Huntington House.
How to Choose the Right Sofa.
Think Function First.
When you're making a sofa purchase, start the process by narrowing down the function of the piece. Are you buying a sofa for a formal living room that you only use when company comes over? Or are you in search of a workhorse that the entire family can pile onto for movie nights, game days, and afternoon naps? Do you need something that will stand up to kids and pets? Or are you looking for a style statement that you can design the rest of your room around? Narrowing down what you want out of your sofa will help you quickly weed out what won't work, and avoid getting distracted by styles or silhouettes that might be beautiful, but not practical.
Size it Up.
Size is another important factor in your sofa purchase, because it plays a role in both the functionality of the piece and the flow of your home. You might want a large sectional that fits a crowd for your family room, but if your purchase something too large, it could throw off the scale of the entire space or block natural traffic flow around the room. The same goes for sofas that are too small. You may love the look of a tailored, modern sofa, but if it's going in a cavernous great room with high ceilings and an open floor-plan, it might end up feeling insubstantial by comparison.
It's a good idea to measure your space before you step foot into a furniture store or begin to browse online so you can set a guideline for the size of the sofa you're looking for. In general, you want to leave:
18" between the sofa and the coffee table. A far enough distance to walk around, but not far enough that you can't reach the table from the sofa.
About 6-10 feet between the sofa and the TV, depending on how large the TV is.
36" between the wall and the sofa.
Choose a Winning Fabric.
Fabric is another choice that affects both style and practicality. Some fabrics are more resistant to wear and tear, others create a more luxurious look, but might be on the fragile side, while some fabrics strike a balance between durability and elegance. Here's a rundown of popular upholstery choices.
Performance Fabrics
According to the expert team at North Carolina-based upholstery manufacturer Huntington House, performance fabrics–namely those with stain and water-repellent capabilities–are the hottest trend in upholstery right now. "Originally used explicitly for outdoor furniture, performance fabrics were once limited in color and texture selection, but have come a long way in recent years," said Sheridan Reed of Huntington House. "Today's versions offer an incredibly broad, varied selection of color and pattern, they're soft and colorful, and come with myriad benefits."
Among the best: They're stain, water, odor, and fade-resistant, they're easily cleaned, and even anti-microbial. They're a perfect pick for families, pet-owners, and anyone who wants a low-maintenance, high-style upholstery solution. Considering a performance fabric? Look for upholstery options from Sunbrella, Crypton Home and Revolution.
Leather
Leather is a tried-and-true upholstery option that's only gaining in popularity. According to the Huntington House team, the increase in demand is twofold: From a style perspective, an increasing trend toward incorporating more natural elements into indoor spaces, and layering textures has made leather a natural fit for many homeowners. As far as practicality goes, leather is among the strongest of any material used to upholster furniture, which makes it much more durable than fabric.
Velvet
Velvet is another on-trend fabric choice for sofas, and one that is as stylish as it is (surprisingly!) durable. Velvet lends a richness, softness, and elegance that makes it a go-to choice for style-minded homeowners. But, while it may be plush, it's hardwearing, too. Cotton velvet is strong and easy to clean, making it well-suited for high-traffic living areas.
Linen
Linen fabric is always a popular choice for sofa upholstery. It goes with nearly any style, it has a beautiful, subtle texture, and is among the most durable upholstery options on the market. If you're looking for a fabric that wears well and looks timeless, a linen sofa in a solid, neutral tone is a failsafe choice.
Ask About Double Rubs.
Concerned about the longevity of an upholstery fabric you like? Ask a customer service representative for the store or fabric manufacturer about the fabrics' "Double Rub" number. The double rub count is determined through an abrasion test that uses back-and-forth motions to approximate usage. The higher a fabric's double rub count, the more durable it is. In general, fabric that meets 15,000 double rubs standard is considered heavy duty, and suitable for upholstered furniture. Double rub counts can reach as high as 100,000, although any measure over 35,000 is not considered necessary for residential use.
Picking a Sofa Color.
Since the sofa is a major piece of furniture, the color you choose will inform the rest of the decor in the room. Neutral sofas are the most flexible option, because they allow you to change up the color scheme or style of your room with accents like throw pillows, rugs, drapery, and art. Colored sofas, on the other hand, mean sticking to a coordinating scheme throughout the life of the sofa. At the same time, colored sofas can make a much bigger style impact in a room than neutral versions.
According to Huntington House, the color of your sofa can also affect the mood of the room. "People who want their home to be a peaceful, relaxing place to unwind at the end of the day may choose cool colors or neutrals," said Reed. "Those who want to invigorate and energize may blend brighter colors and contrasts throughout their space. There is no right or wrong way to use color, but most people have a definite opinion of how they want their home to feel, so it is important to arrive at a color scheme that matches that feel."
Style
There are dozens of standard sofa silhouettes, but not all shapes are suited for every style (or lifestyle). Here are some of the most popular sofa silhouettes, and the styles they complement best.
Chesterfield
A chesterfield sofa is known for its telltale tufting across the back and sides. Its sophisticated stature and heavier silhouette give it a masculine air that complements industrial, Americana, and traditional spaces.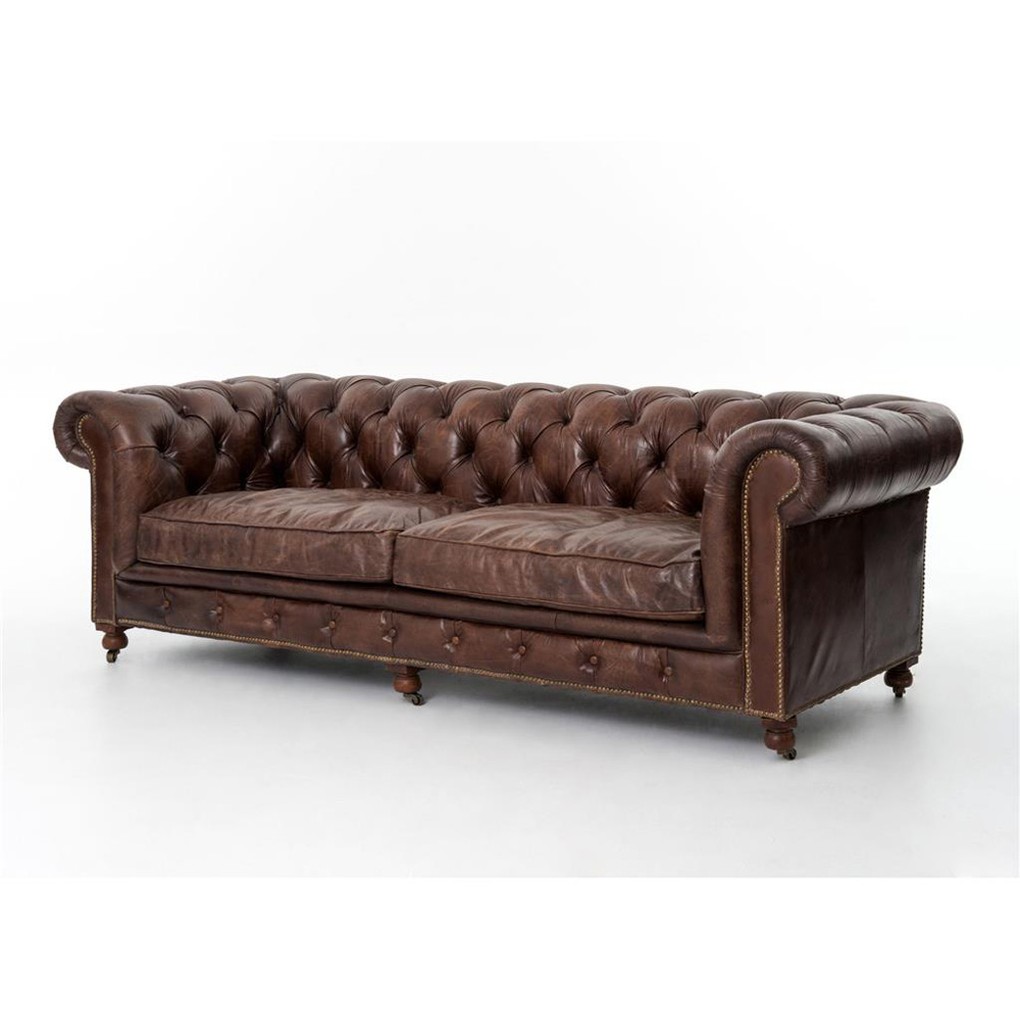 Tuxedo
Tuxedo sofas are neat and streamlined with a sophisticated feel that's well-suited for formal living rooms, home offices, or master suites.
Slipcovered
Slipcovered sofas have removable covers that give them a casual, inviting look, and make them a practical choice for families and those with pets. Slipcovered sofas are a natural style fit for beach or cottage-style homes.
English Roll Arm
The roll-arm sofa is an elegant classic that's also extra comfortable thanks to deeper-than average seats. This tailored beauty works well in traditional, transitional, or farmhouse-style settings.
Midcentury
Midcentury sofas have a streamlined, retro look, often with tapered legs, a tight back, and a low profile. They go best with midcentury, contemporary, eclectic, or bohemian decor.
Sectional
Sectionals are a great choice for accommodating a crowd. They have a more relaxed feel, and are typically reserved for family rooms, great rooms, or more casual spaces.
How to Identify a Quality Sofa.
A quality sofa is an investment that can last decades of heavy usage (or even longer with upholstery or refinishing). How do you know if you're getting a quality piece? Look for these signs.
Eight-way Hand Tied Construction
"The most important component of a high quality sofa is being eight-way hand tied," said Reed. "Eight-way hand tying is a time-tested construction technique that has been passed down and perfected through many generations of furniture craftsmen and women. It is the single best way to build a piece of upholstered furniture; no other construction technique can match the level of comfort and durability, and eight-way hand tied sofas simply look better for a longer period of time."
So what is eight-way hand tying? It's a method used to create the base of the sofa where the cushions sit. It starts with steel springs, which are nailed to a hardwood frame. Then, hemp cords are tied from each spring to the frame in eight different directions, which creates a suspension system to take stress and pressure away from the cushions and distribute it throughout all of the springs. According to Reed, "The number one reason people shop for a new sofa is that the cushions on their old sofa are sagging and/or flat. Eight-way hand tying prevents this from happening."
Hardwood Frame
Furniture made from hardwood holds up better than versions that aren't, with the best sofas made from kiln dried hardwood lumber. "The high quality hardwood is then joined by glue and double-dowels to strengthen and reinforce the frame," Reed explained. "The four corners of the frame are reinforced with corner blocks which are glued, screwed, and stapled to the frame, a process that triples the strength and stability of the frame."
A hardwood frame is essential to eight-way hand tying, also, and plywood and MDF are not strong enough to hold the nails and springs required for the process.
360 Degree Tailoring
Finally, when shopping for furniture, take a look at a piece that has patterned fabric on it. According to Reed, "Quality upholstery companies will take the extra time and material to line up the pattern on all sides of the piece–front, sides, and back–including all welts. For example, on a striped piece, the stripes should match up all the way up the front of the piece and down the back as if it were one piece of fabric."
This is a very labor intensive and skilled process, which takes much time and uses more fabric to ensure everything lines up, but results in a higher-quality, better-looking sofa.